Our Approach to Mobile
Application Security Testing
The goal of our mobile application security testing service is to fully validate your applications against all types of attacks against the core application, back-end APIs, business logic etc.
Our security testing approach leverages a combination of intelligent automation that leverages AI & ML along with in-depth testing by elite teams of experts that focus on business logic testing.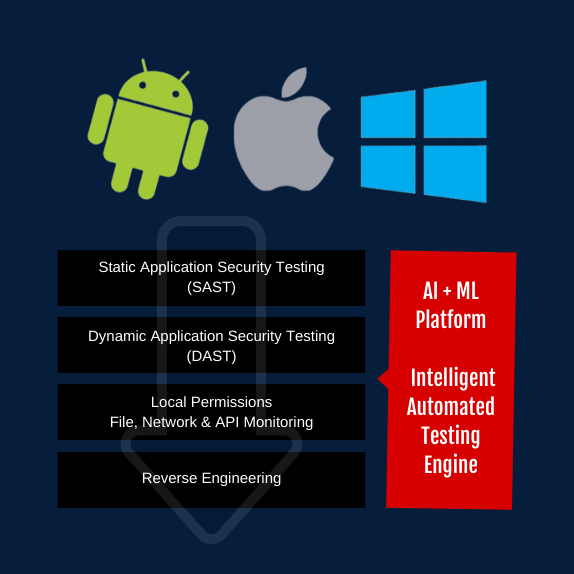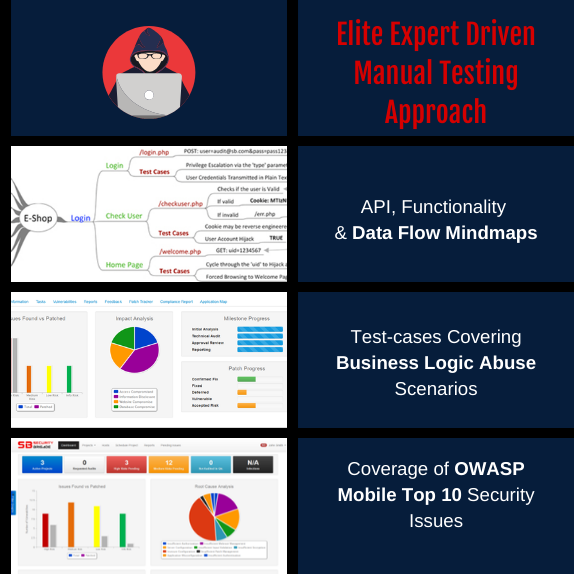 Our proprietary AI + ML intelligent testing engine, processes each application in a sandbox environment. It includes:
Static Application Security Testing (SAST)
Dynamic Application Security Testing (DAST)
Automated Reverse Engineering to Identify Key Processes, Components & Map Functionality
Validation of Local Permissions, File System Access & Android API Calls.
Expert Driven Manual Testing
Our elite team of experts manually review the application, its internals and its API calls to carry out a comprehensive security assessment. This includes:
Creating a step-by-step mindmap of the application functionality, data flow, back-end API calls and business logic.
Creating test-cases of abuse scenarios to identify business logic vulnerabilities in the application flow.
Leveraging our AI + ML based platform to identify potential gaps, vulnerabilities & abuse scenarios based on data from thousands of client engagements
Our team works to combine the findings from the Intelligent Automation & Expert Driven Manual Testing phases to create a comprehensive report of all security issues within the mobile application ecosystem.
What is Application Security?
Effective Security Testing Safeguards your Applications from Cyber Threats & Vulnerabilities
RNR Application Security Testing helps you detect application vulnerabilities, provide full coverage for Web and Mobile application infrastructure and online services, and reduce risks to meet regulatory compliance requirements. Our Application Security Methodology extends beyond scanning software detection to identify and prioritize the most vulnerable aspects of your online application, as well as come up with practical Solutions.
Leave us massage
How May We Help You!