COSO Compliance
Software & Management
COSO stands for Committee of Sponsoring Organizations of the Treadway Commission. It is a framework for internal control that helps organizations improve their governance, risk management, and compliance. COSO provides a set of principles that organizations can follow to establish and maintain effective internal controls.
The Committee of Sponsoring Organizations (COSO) is a collective that releases various frameworks for risk management. Among these frameworks, the most widely used one is the framework for internal business controls. This particular framework assists organizations in ensuring the accuracy of their financial statements, protecting their assets and stakeholders from fraud, and optimizing their operations. The guidelines provided by COSO are applicable to all aspects of the organization, including auditing and information technology. Additionally, COSO also publishes other risk management frameworks. However, for the purpose of this discussion, we are focusing solely on their internal control framework, which was last updated in 2013. It is worth noting that this framework was initially developed by five private sector organizations.
The American Institute of Certified Public Accountants (AICPA)
The National Association of Accountants (now the Institute of Management Accountants (IMA)
The American Accounting Association (AAA)
The Institute of Internal Auditors (IIA)
Financial Executives International (FEI)
Coso internal control framework is widely utilized in the United States as a means for businesses to demonstrate their adherence to laws and regulations such as the Sarbanes-Oxley Act (SOX) and the Foreign Corrupt Practices Act (FCPA). It is the most popular framework for internal controls, aiding businesses in showcasing their compliance efforts.
The Coso Internal Control Framework is not mandatory, but by following its guidelines, your organization can strengthen its security infrastructure and effectively prevent instances of fraud, theft, damage to reputation, or facing regulatory action due to poor controls.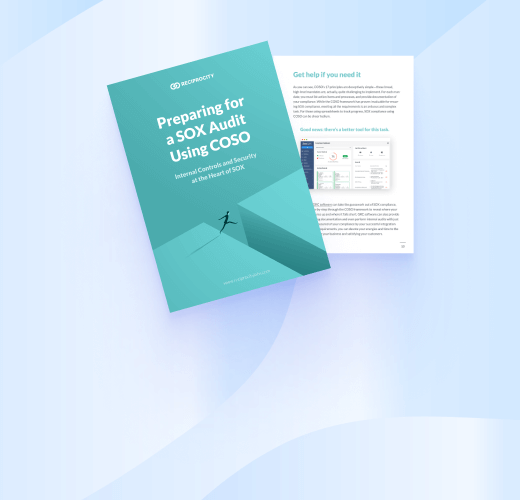 Why Is COSO
Compliance Important?
The usage of the COSO framework has played a vital role in preventing fraud and inadequate financial reporting in publicly traded companies listed in the United States. Undoubtedly, this framework has offered the initial official definition of "internal control."
COSO defines internal control as a systematic process established by a company's board of directors, management, and employees. The main objective of this process is to provide reasonable assurance that the organization can effectively achieve its operational goals, ensure accurate and reliable reporting, and comply with applicable laws and regulations. This process involves the identification and evaluation of risks, the implementation of control activities, the communication of information, and ongoing monitoring to ensure that internal control remains effective over time. By implementing internal control measures, companies can enhance their overall governance and mitigate the potential risks and uncertainties they face.
The description of internal controls by COSO serves as a crucial basis for managing modern cybersecurity. It emphasizes that internal controls are not just a goal in themselves, but a means of achieving something. This framework has empowered numerous organizations in various industries to enhance their decision-making, operational efficiency, reporting, and compliance protocols.
COSO provides an important advantage by instilling confidence in senior management regarding the effectiveness and efficiency of operations, accurate financial reporting, and compliance with applicable laws. This allows corporate compliance professionals to ensure that everything is running smoothly and in accordance with the required standards. By implementing COSO frameworks, organizations can establish robust internal controls that not only enhance operational efficiency but also minimize the risk of errors and fraud. These frameworks provide a comprehensive approach to risk management, helping businesses identify, assess, and mitigate potential risks across all areas of operation. Additionally, by promoting transparency and accountability, COSO frameworks enable senior management to make informed decisions and take proactive measures to address any potential issues before they escalate. Ultimately, by following COSO guidelines, organizations can build a strong foundation of trust and integrity, both within the company and with external stakeholders. This, in turn, fosters a positive reputation and drives long-term success.
RNR's COSO compliance services can help organizations improve their internal control posture. Our service steps include:
Conducting a risk assessment to identify and assess the risks to an organization's operations, financial reporting, and compliance.
Developing and implementing an internal control framework that aligns with COSO principles.
Monitoring and reviewing the internal control framework to ensure that it is effective.
Providing training to employees on internal control best practices.
Conducting internal control audits to assess an organization's compliance with COSO.
By using our services, organizations can improve their COSO compliance posture and reduce their risk of being attacked or losing data.
Contact us now and get your business secured.
COSO Requirements
at a Glance
Again, COSO is only a framework rather than a requirement. Compliance with COSO is not legally mandated. For those that want to improve their compliance and fortify their internal control structure, however, the following five core components (as well as the checklist below) can help your organization get started.

COSO
Compliance Checklist
The following checklist can help serve as a COSO guide as you begin to implement your own internal controls.
Implement an ethics program that enforces integrity and ethical values in business practices.
Make a commitment to monitor enforcement of your risk management framework.
Facilitate management's philosophy on ethical business operations.
Determine your organizational structure.
Assign appropriate authority and responsibility according to your organizational structure.
Determine enterprise risk management objectives.
Perform an internal audit to determine risk appetite and risk tolerance.
Implement an appropriate change management protocol.
Continuously improve security as new guidance is received or as regulations change.
Create a business continuity plan.
Implement effective internal control monitoring activities.
Report deficiencies and implement improvements.
RNR Has Your
COSO Framework Solution
Our RNR GRC experts can walk you through the entire COSO framework, helping you examine your environment and policies and shore them up to ensure a robust compliance program.
We can also advise on documentation best practices and a system of internal controls that includes your COSO framework as well as any other necessary frameworks like SOX, HIPAA, PCI, or otherwise.
Using our flexible, integrated ZenGRC platform to organize and manage COSO suggestions, our solution eliminates many of the tedious manual processes and reduces the time and resources requirements to manage an effective compliance program.
What is Application Security?
Effective Security Testing Safeguards your Applications from Cyber Threats & Vulnerabilities
RNR Application Security Testing helps you detect application vulnerabilities, provide full coverage for Web and Mobile application infrastructure and online services, and reduce risks to meet regulatory compliance requirements. Our Application Security Methodology extends beyond scanning software detection to identify and prioritize the most vulnerable aspects of your online application, as well as come up with practical Solutions.
Leave us message
How May We Help You!