COSO Compliance
Software & Management
The Committee of Sponsoring Organizations (COSO) is a group that publishes various risk management frameworks, including its widely used framework for internal business controls.
That framework helps organizations to assure that their financial statements are accurate, that assets and stakeholders are protected from fraud, and that their operations are running optimally. Its guidelines are applicable across the entire organization, from auditing to IT.
COSO publishes other risk management frameworks as well; we are focusing here specifically on its internal control framework, last updated in 2013. That framework was originally created by five private sector organizations, including:
The American Institute of Certified Public Accountants (AICPA)
The National Association of Accountants (now the Institute of Management Accountants (IMA)
The American Accounting Association (AAA)
The Institute of Internal Auditors (IIA)
Financial Executives International (FEI)
COSO's internal control framework is the most widely used framework for internal controls in the United States. It helps businesses to demonstrate their compliance with laws and regulations such as Sarbanes-Oxley Act (SOX) and the Foreign Corrupt Practices Act (FCPA).
While the COSO internal control framework is voluntary, its guidelines can help to empower your organization with the security infrastructure necessary to prevent fraud, theft, reputational loss, or regulatory enforcement over poor controls.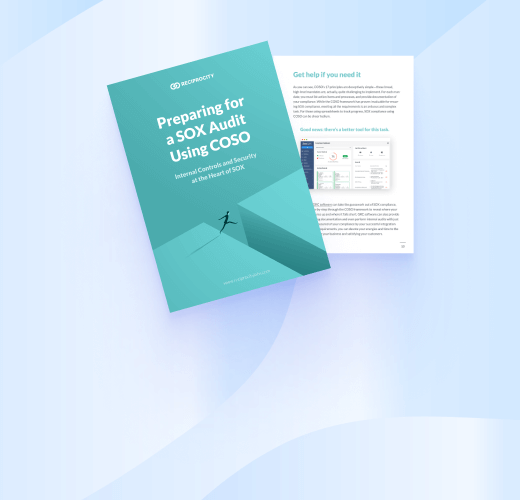 Why Is COSO
Compliance Important?
he COSO framework has been instrumental in deterring fraud and poor financial reporting among U.S.-listed public companies. Indeed, the framework provided the first formal definition of the term "internal control."
COSO defines internal control as "a process, effected by an entity's board of directors, management, and other personnel; designed to provide reasonable assurance regarding the achievement of objectives relating to operations, reporting, and compliance."
COSO's description of internal controls is an important foundation for modern cybersecurity management, because it established internal controls as a process that achieves something, rather than as a goal unto themselves. The framework has empowered many organizations across a variety of industries to improve decision-making, operational, reporting, and compliance protocols.
Another important benefit of COSO is that it has allowed corporate compliance professionals to give senior management the confidence that operations are effective and efficient, financial reporting is accurate and accountable, and compliance with all applicable laws is assured.
COSO Requirements
at a Glance
Again, COSO is only a framework rather than a requirement. Compliance with COSO is not legally mandated. For those that want to improve their compliance and fortify their internal control structure, however, the following five core components (as well as the checklist below) can help your organization get started.

COSO
Compliance Checklist
The following checklist can help serve as a COSO guide as you begin to implement your own internal controls.
1
Implement an ethics program that enforces integrity and ethical values in business practices.
Make a commitment to monitor enforcement of your risk management framework.
Facilitate management's philosophy on ethical business operations.
Determine your organizational structure.
Assign appropriate authority and responsibility according to your organizational structure.
Determine enterprise risk management objectives.
Perform an internal audit to determine risk appetite and risk tolerance.
Implement an appropriate change management protocol.
Continuously improve security as new guidance is received or as regulations change.
Create a business continuity plan.
Implement effective internal control monitoring activities.
Report deficiencies and implement improvements.
Reciprocity Has Your
COSO Framework Solution
Our Reciprocity GRC experts can walk you through the entire COSO framework, helping you examine your environment and policies and shore them up to ensure a robust compliance program.
We can also advise on documentation best practices and a system of internal controls that includes your COSO framework as well as any other necessary frameworks like SOX, HIPAA, PCI, or otherwise.
Using our flexible, integrated ZenGRC platform to organize and manage COSO suggestions, our solution eliminates many of the tedious manual processes and reduces the time and resources requirements to manage an effective compliance program.
What is Application Security?
Effective Security Testing Safeguards your Applications from Cyber Threats & Vulnerabilities
RNR Application Security Testing helps you detect application vulnerabilities, provide full coverage for Web and Mobile application infrastructure and online services, and reduce risks to meet regulatory compliance requirements. Our Application Security Methodology extends beyond scanning software detection to identify and prioritize the most vulnerable aspects of your online application, as well as come up with practical Solutions.
Leave us massage
How May We Help You!